B.J.Thomas – Raindrops Keep Fallin' On My Head
Raindrops Keep Fallin' on My Head" este un cintec compus de Hal David si Burt Bacharach pentru filmul Butch Cassidy and the Sundance Kid (1969). A cistigat un Academy Award (Oscar) pentru "Best Original Song".
In film este o parte instrumentala pe care Paul Newman face citeva cascadorii cu bicicleta. Melodia a stat patru saptamini pe locul 1 la Billboard 100, in Ianuarie 1970.
In rolurile principale din film au jucat Paul Newman, Robert Redford si Katharine Ross.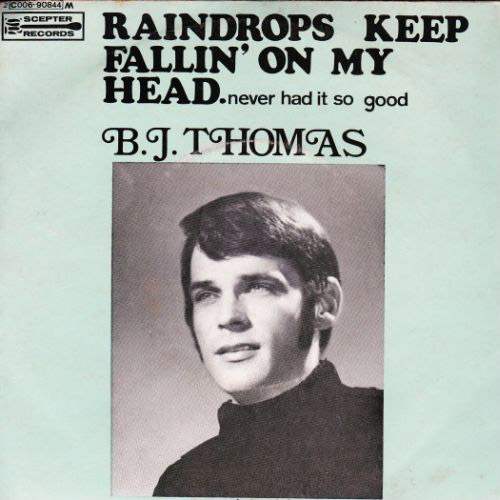 Versuri:
Raindrops are falling on my head
And just like the guy whose feet are too big for his bed
Nothing seems to fit
Those raindrops are falling on my head, they keep falling
So I just did me some talking to the sun
And I said I didn't like the way he got things done
He's sleeping on the job
Those raindrops are falling on my head, they keep fallin'
But there's one thing I know
The blues they send to meet me
Won't defeat me
It won't be long 'till happiness steps up to greet me
Raindrops keep falling on my head
But that doesn't mean my eyes will soon be turning red
Crying's not for me
'Cause, I'm never gonna stop the rain by complaining
Because I'm free
Nothing's worrying me
It won't be long 'till happiness steps up to greet me
Raindrops keep falling on my head
But that doesn't mean my eyes will soon be turning red
Crying's not for me, 'cause,
I'm never gonna stop the rain by complaining
Because I'm free
Nothing's worrying me
---
Reader's opinions